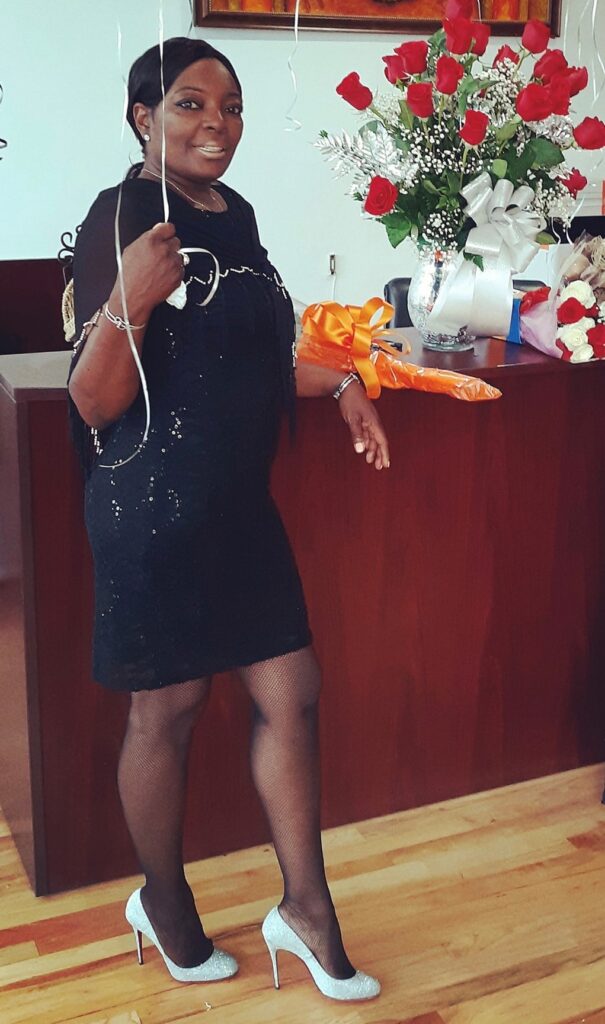 ABOUT ANGELA P. STOKES
Angela was introduced to the real estate industry at a very young age. Her parents were ahead of themselves in this industry by being investors of multiple Brownstones and Buildings in Bedford Stuyvesant, Brooklyn NY. Later, her parents purchased the family home in Laurelton, Queens NY while having their investment properties work for them. During the late 80's, Angela's real estate career began with servicing the family owned buildings while capitalizing from these experiences. She paid attention to everything whether others knew it or not.
While attending college, she was called upon to begin working for the New York City's Department of Correction. After being assigned to one of the countries' toughest system for 21 years, Angela retired in 2007. During her tenure with the NYC Department of Correction, she was elected Union Delegate for 15 years where she represented 800 Correction Officers. She ensured that the administrators followed the Institutional Orders, Directives, and Operational Orders as it Pertained to Correction Officers. She was also a First Responder on September 11th, a day that she will never forget.
Alongside her career, Angela began making her own real estate investments in various states and countries. She acquired her Real Estate Salespersons License and made the decision to continue her real estate education. She completed the Pre-License with the New York State Department of State (NYSDOS). She continued with her completion of the appraisal course and her Title Closer certification course. She felt it was imperative to be well versed so she can offer her clients as much of her knowledge as possible. Her vision was to be a "One Stop Shop" one day. After many of her clients requested her inputs on commercial real estate, it gave Angela the opportunity to acquire the commercial Real Estate Certification. Since then, she has been able to accommodate clients who are interested in purchasing commercial properties and leasing commercial spaces.
Angela loves the community. With that love and strong background and presence in the Bedford Stuyvesant Community, she interviewed for an available position of Community Organizer/Project Manager of Bedford Stuyvesant, Brooklyn NY with Bridge Street Development Corporation, a not-for-profit development corporation. Their mission is to identify and purchase properties and sell affordably most of the properties, which were brownstone and mixed-use buildings along with development projects. After Angela's second interview, she was immediately accepted for the position. Most of her assignments consisted of restructuring of 300 Putnam Avenue, Bedford Stuyvesant, Brooklyn NY. This project was approximately one year and three months from start to completion. Her roles and responsibilities included tenant relocations, landlord tenant court concerns, the designing of landscaping, assisting with the selection of tiles and interior colors, and conducting financial literacy classes for the residents and unit maintenance education. She has formed approximately 15 block associations and connected homeowners to various resources. During her time, she was also involved on the sales end where she made the swift transaction of one Bridge Street Development Corporation's most valued properties. Read more here.
Angela had a burning desire to help people in need of real estate services along with the love for various architectural building designs. As a licensed Real Estate Salesperson, she was able to associate herself with Large Franchise Brokerages such as RE/MAX and Exit Realty. It did not take her long to be recognized as a Top Selling Agent by the Broker (2015) and later Agent of the Month Award (2018). Producing multi-millions of dollars in sales, Angela was clearly leading by example. She had her own style and technique that lead to her success. She was asked to lead a team of 12 Agents, who later became top-selling Salespersons.
In 2017, Angela began to prepare for the Licensed Real Estate Brokers education and certification. In July 2018, APS Realty was officially established. On October 7th of 2018, Angela hosted a beautiful ribbon cutting where local politicians, lenders, past and present real estate salespersons, community residents, merchants, friends and family came to support the launching of her own Real Estate Brokerage. APS Realty is centrally located on a main corridor on Linden Boulevard in St. Albans, Queens.
Angela is a homeowner and resident of the Historical Addisleigh Park, a subdivision within St. Albans, Queens NY for over 24 years. She has sold numerous homes within her community with all of them having the highest price that any seller has ever received in this community as to date. She attributes her success to hard work, dedication, motivation and determination. Angela says, "Not often are you privileged enough to have the best of both worlds. The real estate world is competitive. To exist in two boroughs Brooklyn, Bedford Stuyvesant, and multiple Queens communities "Says Something". I've been blessed to have a strong referral clientele and never shy away from asking for their business."